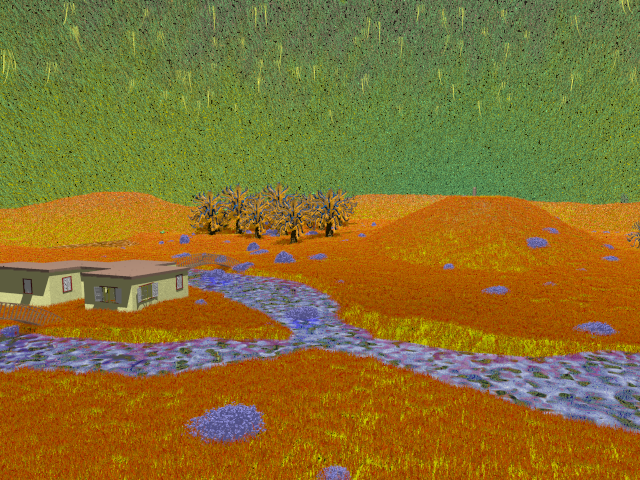 A Gods & Monsters Adventure
Vale of the Azure Sun
A Gods & Monsters adventure of marvels suitable for three to six 3rd to 5th level characters
by Jerry Stratton
Copyright © 2014
http://www.godsmonsters.com/Guide/Blue/
Pray not to trip on a strawberry tide,
Nor ask of the dead for a hand to guide.
Nor follow to Alice, her rabbit astride,
In the Vale of the Azure Sun.
See godsmonsters.com/Guide/conversions/ if you'd like to use Vale of the Azure Sun in AD&D or other old-school games.
Permission is granted to copy, distribute and/or modify this document under the terms of the GNU Free Documentation License Version 1.3, published by the Free Software Foundation. A copy of the license is included in the section entitled "GNU Free Documentation License"
September 1, 2014
Go to http://www.godsmonsters.com/Guide/ for more great adventures!
1. Lost Castle of the Astronomers, for 1st to 2nd level
2. Haunted Illustrious Castle, for 2nd to 3rd level
3. The House of Lisport, for 4th to 6th level
4. Helter Skelter, for 5th to 6th level
Background in The Vale of the Azure Sun
Characters in The Vale of the Azure Sun
Dry brown leaves cover the ground around the hollow trunk of an ancient oak. Its leafless branches rise starkly against the green forest. A gaping hole on one side exudes the smell of autumn.
The sky is a bright yellow, interspersed with threads of green mist. High in the sky a bright blue ball of fire slowly traverses the sky, drawn in a silver chariot by translucent stags that look like blue glass. Lower in the sky, very near you, the yellow and green merges into brown dirt and stone, where the dome of the sky meets the hilly ground.
No description available
Special Items in The Vale of the Azure Sun
Most pocket domains, existing as they do in the crevasses between worlds, open on to many worlds. The vale opens on to the Eternal Crossroads, Highland, Fading Highland, and (at the mad Elf's cave) to just about anywhere.
The three maps might be found before the characters enter the Valley, or might be found somewhere within the valley. They should be very brittle and aged. They might be found, for example, on a dead body below Illustrious Castle, someone who came through the black lake. They don't have to be found together.
Version 1.3, 3 November 2008
HTML version of The Vale of the Azure Sun
PDF version of The Vale of the Azure Sun
RTF version of The Vale of the Azure Sun
Resources for The Vale of the Azure Sun, including samples and document graphics.