Nestled in a valley in the mountains, living in the shadow of the abandoned castle high up on the cliffs to the east, Biblyon greets you in the sun like a long-lost relative. Homes and buildings crowd in together, huddled against the wilderness. A high wooden wall surrounds the west entrance to the tiny valley. In the mountains beyond the wall, a small waterfall sparkles downward (in the evening sun).
In Biblyon, rumors are flying about some strange, horrible creature loose in the forests. Farmers have complained of chickens taken whole, of travelers found dead with their eyes and tongues and ears missing, of livestock found sucked free of blood. The night trolls are restless in the winter, but no night troll has ever drained the blood of their victims, nor eaten the eyes and left the rest of the body untouched.
Expected visitors have gone missing, and a farmer in the bar last night claimed to have seen smoke rising from the woods near the old castle.
There have also been stories of strange sights at the old castle. One hunter swore he saw smoke coming from the towers. A farmer says that on a visit to a friend he and his family saw strange red eyes outside the range of his fire. "Halfway between yourself and the Kellies? Wouldn't that put you near the old castle?" "Why yes, I guess it would." He crosses himself and mumbles "Jesus, Mary, and Joseph".
It has been a hard winter, but the snows are now melting. The waters of the Old Deer River are flowing at maximum.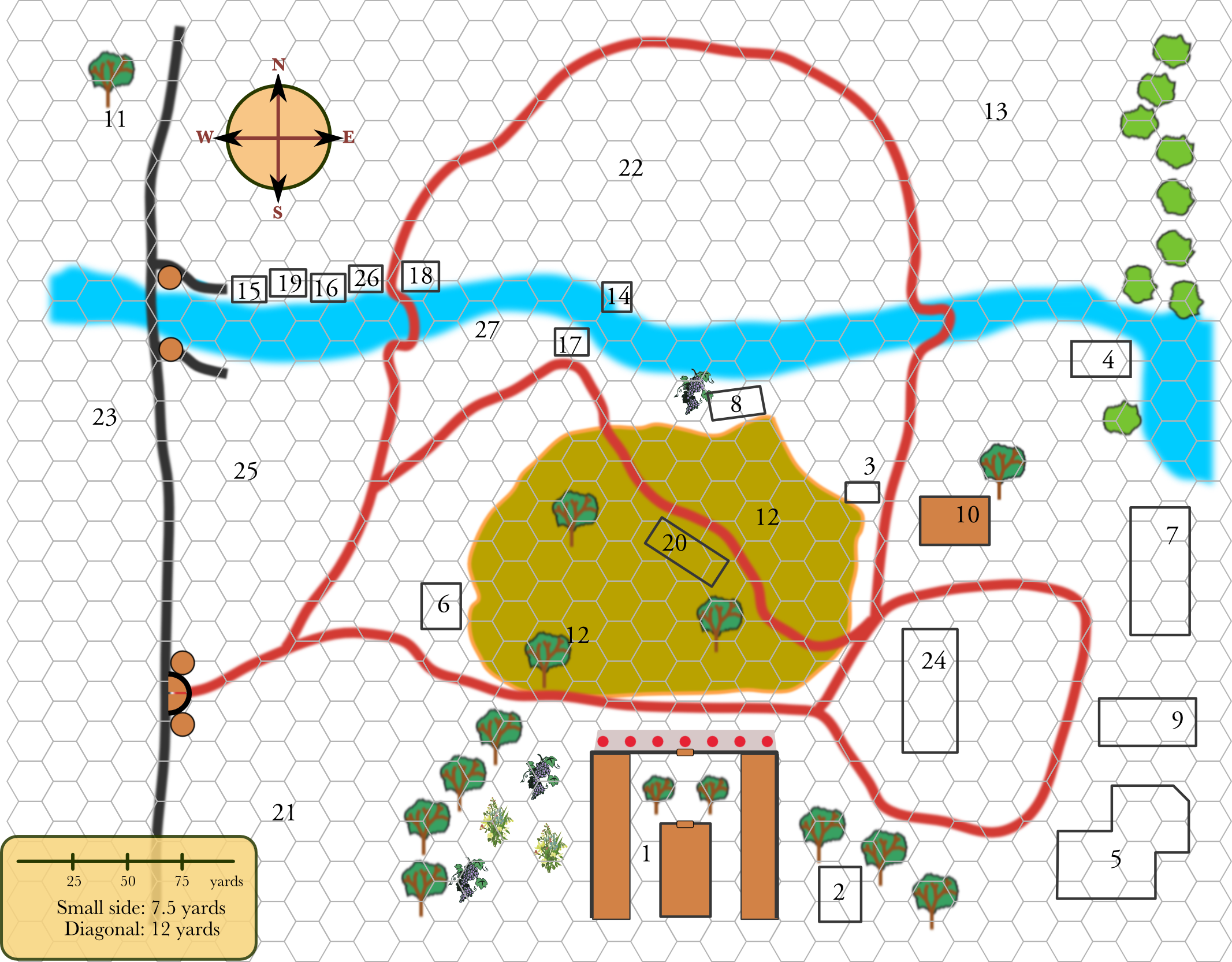 Map Features in Illustrious Castle: Biblyon
Seven tall columns stand atop stone stairs that lead up to the doors of the great library at Biblyon. Shaded by the overhanging roof, amongst the columns, people read, talk, and play board games such as chess and checkers.
Discounts on both rooms and meals can usually be worked out for long-term visitors.
Most of the merchants work from their homes in the Merchant Quarter. They live north of the river, up the high banks. Most professional service providers, such as surveyors, surgeons, and architects, can be found in the library and the private houses.
Outside of the town are the farmers, hunters, fishers, and others who provide the town with food, wood, and thread. Many of those outside of town have become infected with the Biblyon disease and also desire to learn, to read the learning of others, and to discuss this learning with colleagues.
The Order had its own minter. People continue to use Order coins, and also use coins from Crosspoint and Black Stag. There were three types of Order coins: copper colonnades, silver pens, and electrum scrolls.
Most of the townsfolk live in the downhill area. Some of the more moneyed townsfolk live uphill.
The most influential people in Biblyon are the Tutors, and then the Librarians. These two groups are organize and maintain the town's defenses and also engage scholars throughout Highland. The town leadership consists of the Town Council and the Mayor. The Mayor's man on the council is the Alderman. The Judge was once appointed by the Order; since the demise of the Order the head librarian appoints him. Five other members are chosen by a vote of…
Biblyon trades most with Hightown, forty miles south. From there, they trade with Crosspoint and sometimes Black Stag. They can also trade with Black Stag via the Old Deer River. It crosses the Leather Road about one hundred and fifty miles east of Black Stag at the old Brightwood Crossing. This isn't done as often as it could be, however, because getting your boat back up a hundred and fifty miles of river is not easy, and because the village at…
Fortifications in Illustrious Castle: Biblyon